We do a lot for our customers, but we needed to strengthen our CX foundation and expand the support we give to our customers.
The experience we had with CXMania allowed us to be intentional about the attention we pay to our customers' needs and pain points in order to better their journey with us.
Specifically, CXMania's Voice of Customer Map articulated what our customers were most concerned and pleased with , helping us to decide what to focus our attention on first.
As we continue to grow, we are excited to continue collaborating with CXMania and prioritize the needs of our customers.

Isa Marmolejo Head Of Customer Experience at Solgaard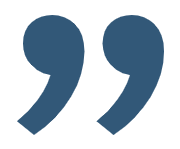 Historically, Café Royal lived in an engineering-driven environment. Therefore the main challenge was that consumer expectations did not match our proposition as a consumer brand. 
Consequently, the only possibility to "listen to customer's voice" were extensive and costly market researches or digital surveys. We also needed to increase speed of development of new concepts. 

Matthieu's support helped us so far in two ways: first of all the rational benefits of having access to the voice of the customer. Then, Matthieu provided a professional approach of how to implement customer centricity throughout the organization. 

As he did not only act as "Mr. CX" but as a real facilitator, we have today a voice of customer team that takes the CX mindset deeply into the teams.

Michael Sandmeier
Former Director of the Café Royal Business Unit